New Forte Exterior Waterproofing Seven Step System 
Our exterior waterproofing  of basements in homes and industrial buildings has stood the test of time.   Join the thousands of happy customers who enjoy the piece of mind with our 2-25 year warranty depending on the scope of the job.
Waterproofing  your home from the exterior allows you to restore the foundation and gain maximum drainage around you property by installing new weeping tile.
ONE.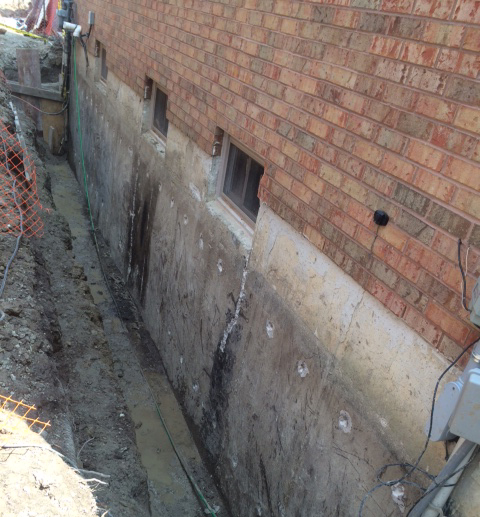 Excavate by hand or machine around the perimeter of the leaky or damp basement exposing the cracked or wet wall to be cleaned and repaired
TWO.
The old weeping tiles are examined for repair and or new weeping tile are installed.
THREE.


The exposed exterior walls are examined for cracks and other imperfections. Cracks are chiseled out and filled with hydraulic cement. Parging of wall and coving of footing is also performed.
FOUR
Rubber waterproofing membrane  is applied your foundation. Either troweller mastic bitumen or blue skin membrane is applied to the wall.
FIVE
Dimpled drainage membrane is fastened to the exterior wall. This membrane will act as a protection board and a drainage membrane.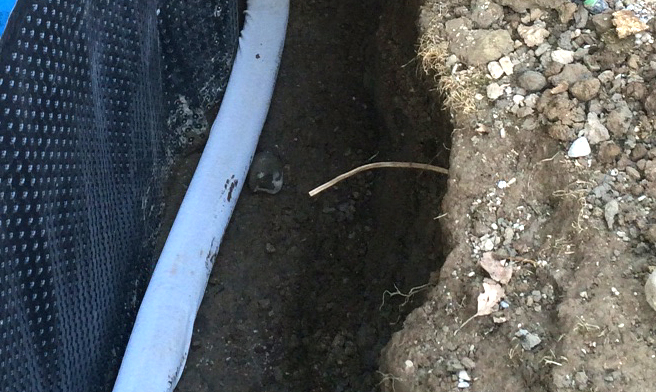 SIX
Clear gravel is placed over the weeping tile. This maximizes drainage and ensures water stays out and interior wall stays dry. Your home remains comfortable and safe free from dampness and mould.
As an added form of protection Blueskin can be added at this time.
SEVEN
Backfill every 12 inches and tamper mechanically. Rest assured your landscaping with be returned to its original appearance.
The New Forte Seven Step Exterior Waterproofing System
ensures  your foundation is water tight and your basement is dry, guaranteed  .
Applicators for:
Hot Rubberized Membrane
Cold Applied Membranes (Bakor)
Self Adhering Membrane
Installer of Air-Gap Drainage Membrane (System Platon)
Concrete Joints
Repairs To Beam Pockets
Repairs To Pipe / Electrical Conduits (Hydro Pipe)
Weeping Tile Flushed Out and / or Replaced
New Window Well Installation
Window Well Drains Clean-Out or Replaced
Senior Discounts Available